If you are in search of non-cheesy headphones, whether over-ear headphones, In-ear headphones, or true wireless earbuds for workout, gaming, and other activities, ready-made assemblies from well-known manufacturers will come to your rescue. In this review, we have collected the best headphones that can provide you with great value.
Our recommendation for the best headphones you can buy does not just have great sound but are also versatile, comfortable, and loaded with features like multi-device pairing, built-in voice assistant, active noise cancellation, and a dedicated companion. Below are our top picks on the 7 Best headphones.
7 Best Headphones
Best Overall
Sony WH-1000XM4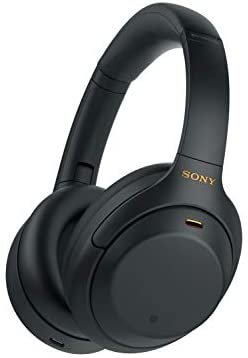 The Sony WH-1000XM4 is undoubtedly the best headphone so far. It is a closed-back headphone with great features. It is the best noise-canceling headphone that keeps out high and medium frequency sounds. This is because it possesses two microphones on each ear cup that capture noise and sound and passes it to the built-in HD noise canceling processor QN1. They provide total comfort with their lightweight design.
It produces exceptional sound, handles heavy beats, and can generate a frequency of up to 40kHz. Thanks to its trained adaptive sound control that can automatically detect what you are up to at any moment and help you adjust the sound to suit your situation. Its battery charges for 3 hours and lasts for Max. 30 hours(NC ON), Max. 200 hours(NC OFF). With its built-in proximity sensor, it detects whether or not you are wearing them and helps you turn them on and off automatically to save battery.
Best wired in-ear headphones
SoundMAGIC E11C

The E11C isolating earphone version comes with an experience to take you to higher levels. Constructed with an updated driver, high-resolution silver-plated audio cable, and full aluminum, Sound Magic's controls with easy switching between Android and Apple phones, all to give you enhanced audio performance.
E11C comes with many amazing features such as a tangle-resistant silver-plated copper cable to deliver the best possible signal. Also comes with soft silicone ear tips for an immersive experience and can be paired with any kind of smartphone, not forgetting its 3- button control that can answer calls, switch tracks, and adjust volumes.
Best budget earphone
Earfun Air Pro 2
These are great noise-canceling earbuds with wind noise reduction that has gained ground in the earphone market because it is a cheap earphone with fantastic features. It produces clear and detailed and high-definition sound quality. Although cheap, technologically advanced with great design and IPX5 water and sweat resistance. With the Earfun Air Pro 2, you can enjoy music comfortably all day with no worries and stress.
Best studio Headphone
Sennheiser HD 600
An Over- ear headphone that has been in existence for 60 years. It gives a high-quality transparent sound. It's a true audiophile designed to give the best listening experience. With its uniqueness, it has delivered a lot of pure emotions and excitement to its users which of course include artists and music lovers all over the world.
It has wonderful features such as a detachable, Kevlar-reinforced oxygen-free copper cable with very low handling noise, an earpiece with high-quality open meta mesh, a nice design, a good battery life, and lightweight aluminum voice coils to ensure an excellent transient response, and many more.
Best over-ear headphone for Iphone users
Airpod max
Airpod max is a headphone that has been designed and created for an uncompromising fit that creates the optimal acoustic seal for many head shapes and delivers an impressing sound. It has a high fidelity audio, active noise cancellation with transparency mode, stunning design with an exceptional fit.
They have aluminum cups that beautifully feature a revolutionary mechanism that allows each cup to independently rotate and balance pressure. Airpod max was designed to have a mesh textile that wraps the ear cushion to provide your ears a pillow-like softness feeling while listening and has a digital crown that lets you control volumes, answer calls, skip between tracks, and also has a battery life of 20hours.
Best noise canceling
Bose noise-canceling 700
Bose noise-canceling headphone 700, Over-ear wireless headphones with built-in microphones for clear calls, and Alexa voice control.
Bose 700 can be used for both office work and at home to listen to music, can be used as an adaptive mic system, you could pick up calls with it because of its ability to isolate the noise of any kind and it's so optimized for weather forecast, Amazon, Alexa and also google assistant. Bose 700 also has an awesome battery life of 20 hours. It promises an impressive listening experience.
Best earbuds for iPhone users
Airpods pro
If you are an iPhone user or an Apple gadget user, Apple Airpod Pro is the best earbud to use if you have been looking for a truly wireless experience. It has a noise-canceling feature that is neat and useful and has an overall improved sound and design.
It's seen to be better than the Airpods 3 and other types of Airpods but its pricey nature makes it difficult to be purchased.
Best headphones for workout
Jabra Elite Active 75t.
Elite Active 75t is designed so well with a special pair of tiny wireless earbuds that would serve perfectly on anything you wanted, giving you great calls, great music, and of course a perfect fitting.
Built with amazing features to fit your needs ranging from magnetic earbuds to USB C charging, physical buttons for easy control by you no matter what you are doing, passive noise cancellation, not forgetting water and sweatproof, made to be perfect for an active /sporty lifestyle. It also comes in different colors to fit your choice.
Best Headphone Brands
Most times it's difficult to choose from the wide range of headphones available in the market. Even if you've narrowed down your need for studio headphones, how do you know the best brand of headphones to go for? Well, some brands produce not just headphones but also produce something for everyone, such as earbuds for sports/ athletic activities. With the range of different manufacturing brands, each has its uniqueness that makes its product stand out. Having said that, here are some brands that stand out among the rest.
Bose
Bose is known for its specialization in audio techs like speakers audio systems and headphones mostly. Speakers were their first specialty before moving into the production of the first commercial acoustic noise-canceling headset for pilots. They keep improving and have expanded to a range of headphones for different purposes.
Sony
One of the largest electronic manufacturers of products ranging from TVs to cameras also produces a wide range of headphones with nice features like noise-canceling as longer battery life that lasts for over 37 hours or more, multi-device pairing, button mapping, and so on. They have a variety of products to meet your different needs.
Sennheiser
One of the well-known brands with a wide range of open-back headphones at various prices. They concentrate more on producing both over-ears and in-ears for more casual listening and TV headphones for you to enjoy your favorite TV programs. They have so many different types of headphone, that makes it hard to tell or decide which is superior to the other or provide the best value.
Sennheiser is a good and reliable brand with a good reputation. Some of the products include Sennheiser momentum 3 wireless, Sennheiser HD 5605, and many more.
Audio- Technica
Best known for the M-series headphones, audio- technica is a Japanese brand that makes a variety of studio headphones for professional use. Their products stand out for the sound quality and build, active noise canceling Bluetooth model. Some of their products have a wired design and a well-balanced profile sound
Beyer-dynamic
One of the oldest headphone brands with a focus on neutral sound profile and high build quality headphones. Anyone who has used a Beyer-dynamic headphone can attest to the fact that they have a good audio tech with outstanding sound quality to fit any form of professional or casual needs.
JBL
An American manufacturer that gives a range of audio equipment like speakers, headphones, and earbuds. Do you want workout headphones? then this is a good option. Their headphones and earbuds can serve both in the gym and outside, for athletic activities, and also fits for professional purposes. Their products are durable and as fascinating as it is, they give headphones and earbuds at reasonable prices such as the JBL Live 650BTNC, JBL Tune 225TWS headset in-Ear Bluetooth, and so on.
Earbuds vs Headphones
When trying to decide between earbuds and headphones, it's easy to get confused by the many different brands out there and what they have to offer in terms of features and designs. This is why I will be outlining the difference between headphones and earbuds and it will help you decide which fits your choice and which would suit comfortably your daily activities.
A headphone is a pair of small loudspeaker driver's worn on or over the head of a user. They are electroacoustic transducers that convert electrical signals to sound, and it's normally meant to be used by a single user. They are also called earphones, or earspeakers. Headphones are joined by a band worn over the head and are categorized into over-ear headphones, on-ear headphones, Closed-back headphones, and open-back headphones.
An earbud known as an earpiece on the other hand is an earphone inserted into the ear. It's a pair of tiny speakers which are very portable and come in different shapes and models too. When we try to point out the differences between headphones and earbuds or try to compare them both, we could look at the points below
Comfort: When it comes to comfortability, it's advisable to go for over-the-ear headphones instead of on-ear headphones or earbuds that fit into the ear and could cause discomfort over a long period of Use or on-ear headphones that tend to exact pressure on the ear.
TIP: Go for over-the-ear headphones with more padding in the earpads.
Sound quality: We all want headphones or earbuds with quality sounds and clear audio. Both headphones and earbuds give quality, good sound depending on the physical design, model, or driver's size. Headphones are most times considered to produce better sounds due to their ability to isolate/cancel out noise.
Tip: Over-the-ear headphones are best in isolation from noise.
Safety: Without much doubt, headphones and earbuds are both safe depending on how you use them and for how long you use them. It might not be known to many who use headphones and earbuds to listen to music at high volumes that it could cause severe or permanent hearing loss, issues, or damage to your ears. Both headphones and earbuds are capable of this but it's safer to use headphones due to their design. The design makes them a bit far from your ear canals unlike earbuds which are directly into the ear and are very dangerous at high volumes.
Tip: it's advised to listen to music at a maximum of 60%.
Price:- When it comes to price difference it mostly depends on the model on both sides and how much quality you desire to get. Earbuds are usually cheaper because of the size and materials used for them, but notwithstanding that there fact that there are earbuds with high price tags as well as headphones that come in a wide range of models.
Portability:- Portability is one of the important factors you should consider when making a choice between a headphone and earbud cause it greatly differentiates the two . According to your kind of lifestyle and daily activities you might always want to carry your headphones or earbuds regularly. Due to size earbuds are seen to be the most portable (Small and light in weight) no matter the shape or model while headphones are most times seen to be tiring to carry and to put on when needed.
Tips: If you are someone with a sporty life style it advisable to go for earbuds, they are light in weight, modeled, and designed in different shapes to fit into the ear.