The Holy month of Ramadan is here again! Are you prepared for It? or are you still in search of non-cheesy products that would get you ready for Ramadan and also serve you during that period? We have compiled below a shopping guide that will not only help you prepare for Ramadan but would also make your Ramadan feast this holy month.
Getting your home, kitchen, and yourself ready for this holy month would make you more efficient. Let's get to see some important Ramadan products like gifts, decorations, food, and self-care products you can consider shopping this Ramadan period.
1. Crazy Night Wooden Crescent Moon & Star Eid Ramadan Food Tray
Fruits for iftar are to be arranged on or before iftar. Decorating your dining with this moon and star serving tray would also be an ice idea. It is beautiful and made of high quality and would be great for your iftar and Ramadan celebration. It can also be a gift.
2. Vohado Ramadan Mubarak Table Runner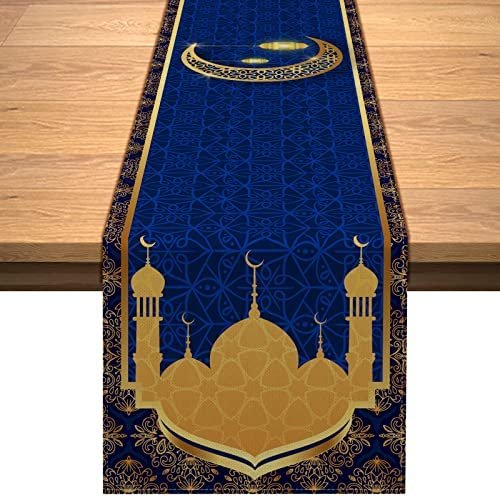 Iftar would be enjoyable on this table runner from Vohado. You can Spread it on your dining table, TV stand, coffee table, kitchen table, bedding blanket, etc. It is 13 x 72inches wide and is suitable for a table of 4-6 people. This table runner from vohado is made from 100% linen and is also easy to wash. It can serve as a gift to your loved ones this holy month and beyond.
3. 3Pcs Iron Eid Food Tray Eid Mubarak Moon Serving Tray
If you think a metal try would be preferable, then you need this non-cheesy tray that is solid and can stand on any table or desktop. The tray is decorated with Eid Al Fitr elements and would serve any kitchen purpose during iftar.
4. Muslim Prayer Rug with Prayer Beads
Change that weird prayer rug with thiswith the Ramadan with this uniquely designed rug that comes in a variety of colors and patterns. express your faith with is prayer rug as it comes with a prayer bead.
5. SHYMERY Ramadan Lantern, 7.8″
You can create a strong Ramadan atmosphere with this eid Mubarak lantern that comes with 6 sided delicate Ramadan pattern mirror glass. It can be used for decoration and also for domestic use.
 6. WATERGLIDE 138 LED Star Moon Curtain.
Decorations are important too, Your Eid al Fitr would be just superb with this moon and star curtain decorative lights. This waterproof design light is sturdy and durable. Switch on/off the light with the USB or Botton. Enhance your religious atmosphere with this light.
7. 2 Pieces Ramadan Wood Sign Wooden
Decorate your home with this wooden Ramadan Mubarak sign that can be used for fireplace mantels, TV stands, bookshelves, or even on your table set up. This wooden Ramadan Mubarak sign is a nice piece of decoration to celebrate your Ramadan with.
8. Alhamdulillah for Tea printed mug for a Muslim novelty gift.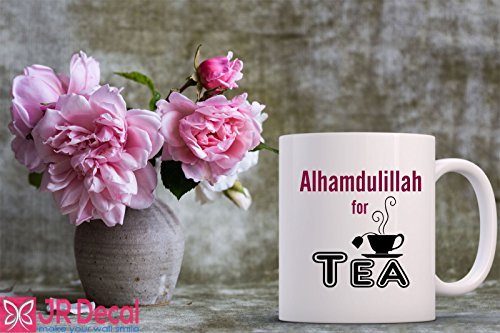 Gifts are essential during Ramadan too. Give this handmade tea mug to your loved ones this holy month of Ramadan.
9. Pukka Vanilla Chai, Organic Herbal Tea With Cinnamon & Cardamom
Tea is one important food after your fasting hours. Yes, this is why the herbal pukka tea bag would serve you better. It is caffeine-free and contains boxes each containing 20 individually wrapped chai herbal tea bags. They are in vanilla flavor.
10. Primula Half Moon Teapot Set with 4 Tea Cups
Since tea might be essential this Ramadan, then teacups are also essential. If you'll need new teacups. Then you should opt-in for the primula Half moon Teapot set with four teacups and a stainless steel infuser. With the fine stainless steel infuser, you are sure of getting a pure cup of tea. It is also easy to wash with no stress.
11. Reynolds Kitchens Slow Cooker Liners
Scrubbing and soaking your pot after iftar Is quite stressful. Instead of scrubbing, you'll spend that time with your family. Get this slow cooker liner for your slow cooker that would cost you nothing and save yourself the time and stress of scrubbing and soaking.
12. Tupperware Vent and Serve Microwaveable.
This month of Ramadan everyone wants less stress. No one wants to be in the kitchen cooking, doing the dishes for too long after breaking a fast. This is why we have chosen this 7 set Tupperware container that allows you to store food up in the freezer and also reheat It in an oven. You've got no worry about scrubbing because it is stain resistant.