This is a new improvement from the whatsapp business team which is a good news for all small businesses that mostly use whatsapp to conduct their business and also have their products on the whatsapp business catalogue.
In this article, we will be discussing on how to get started and what you need to enjoy this new improvement from whatsapp business.
First and Foremost, you need to have a business facebook page, after creating a facebook page, the next thing to do is to have your facebook business manager set up, which is where you can create multiple Ad accounts, add all your business pages and manage them in one place while linking them to your Ad account.
Learn how to create a Facebook business manager And Ad accounts >> Here
After creating your Facebook manager, Ad accounts and also claiming your page, the next step which is the most important thing is to register your official Whatsapp number on your Facebook business manager
After finishing all this steps and your Facebook page is active, then you can follow this simple steps to start running Ads directly from your Whatsapp catalogue on your best selling products.
STEP 1: Open your Whatsapp business, go to business tools and then go to catalogue where you will see all the products you listed.
STEP 2: Click on the three dotted button at the uppermost right and click on advertise on Facebook, you will be presented with two options to either create a Facebook Ad or manage ads in Facebook but since we don't have ads we are running, we will choose create a new Facebook Ad.
STEP 3: You will be shown all the items in your catalogue to choose from, after choosing the products you wish to advertise, you can now proceed to Facebook.
Note that you need to be logged in with the Facebook profile you used in setting up your Facebook business manager in your Facebook App.
This will take you to Facebook App where you can now edit your Ads text, choose your budget and also target your preferred audience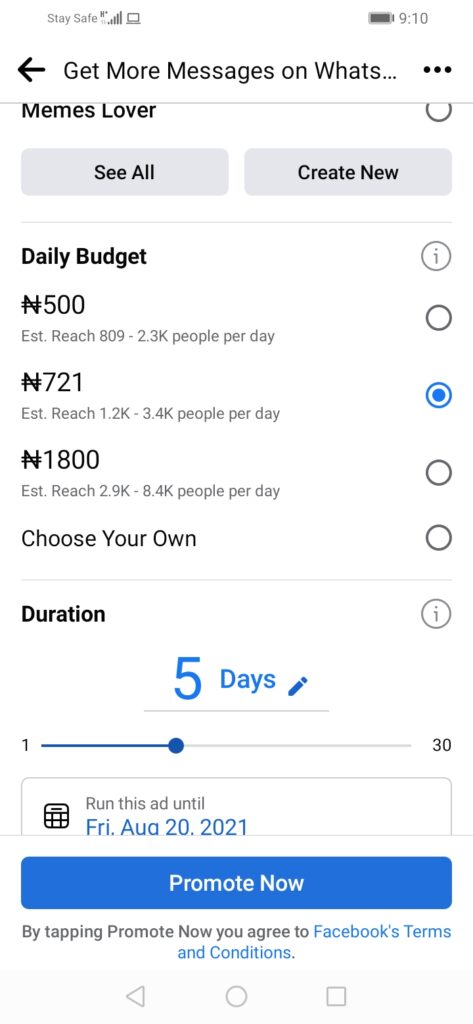 If you choose a personal Ad account which is not the Ad account allocated to your pages on business manager, you might get this error and the promote now button won't come up.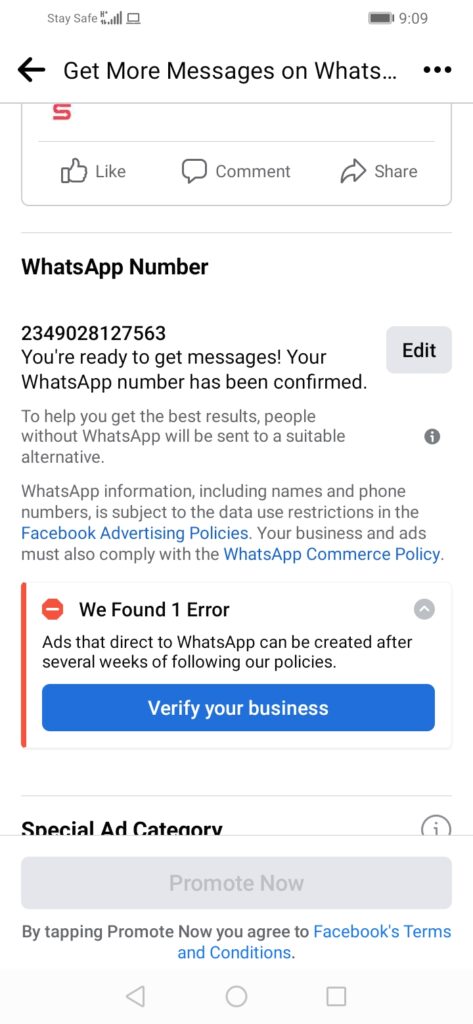 STEP 4: Stroll down and go to payment method, you will see Ad accounts, change it to your Facebook business manager Ad account. After doing that, you will have the promote now button back on and you can proceed to promoting your products.